Selling Your Jewellery Creations
Where Can I Sell My
Jewellery & Craft Creations?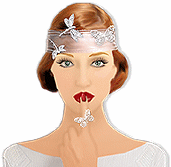 I bet you have often asked yourself that question! You've got a stash of beautiful creations, just waiting to go home with someone!
Well I decided to jot a few of my ideas down for you as a guide, to get the ball rolling.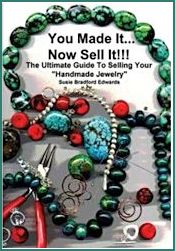 You Made It.... Now Sell It!!!
The Ultimate Guide to Selling Your Handmade Jewelry
by Susie Bradford Edwards
Absolutely everything you need to know before you make sell or consign your jewelry to anyone.
A source of expert guidance to help you enter today's hot and growing jewelry industry.
"You Made It…Now Sell It!!!" covers the opportunities and the risks to be found by making and selling your unique creations.
Detailed information includes pricing, wholesaling, business plans, financing and online selling. 178 pages - Soft Cover, available
here
Selling Online

:
With today's hectic lifestyle there never seems to be enough hours in the day. Thank goodness for online shopping - its never been so easy. Its an ideal marketplace to sell your creations as it provides you with worldwide exposure, and is not difficult to get started!
The following sites have been provided as a guide only.
Zibbet

is a global marketplace, connecting buyers & sellers of Handmade Goods, Fine Arts, Vintage Items & Crafts.

Quite a few of my customers sell on

Etsy

& with great success. Definitely worthwhile taking a peak at.

Ebay

drives alot of traffic to their site. It provides the opportunity to sell your items to a world-wide audience
Markets Online

is a great site not only providing you with the facilities to sell online, but also presents you detailed information about the local markets in your area.

Craft Markets Online

is another great opportunity to sell your products either online or at their Market Place Stalls.

It's worth taking a look at Handmade Catalog - a site for selling handmade crafts online.
Show your talent and display your handmade items at Made It
My Own Creation is based in the UK and is a great place for crafters to list & sell their quality handmade items.
Selling at the Markets or Craft Fairs
:
If selling online just isn't your thing, we have listed some Market Stalls that may be of interest.
Fairs & Festivals


Exclusive membership gives you instant access to the detailed event calendar. The members-only event details for craft shows, fairs, and festivals in your region will give you the information you need to choose the most profitable shows to attend.





Why not checkout your local Gift Shop, Museum, Corner Store or perhaps a Cafe. Contact your local Tourist Bureau and get a list of the popular tourist destinations within your area. Stop by and see if they are willing to exhibit your creations on consignment. It's a great time of the year as people are heading off on holidays, so your jewellery designs & crafts are sure to receive a great amount of exposure.

To keep updated on the latest information on selling your jewellery and craft creations, join me on Facebook