Make A Crystal Suncatcher


How to Make A Crystal Suncatcher with Sofi
The First Ingredient is
MAKE IT FUN!
Our DIY Kits include all of the materials you need to make your own Suncatcher.
DIY Crystal Beaded
Suncatcher Kits
Shop Now

DIY - Birthstone Angel
Suncatcher Kits
Shop Now

Imagine sitting back, relaxing with a nice cup of tea and surrounding yourself with the gorgeous delights of beading colour. Then blending the beads together to create a beautiful Decorative Suncatcher.
My favourite beading supplies are:
The list goes on. Imagination is all you need! Over the years as my hobby became my business, I have gathered tips and tricks to work designs into precious keepsakes for friends and family. They are great gift-giving ideas and more importantly, they are handmade by you. People love it when the thought and time are put into the gift they have received. I would like to share these ideas with you.
A few handy hints to get you started:
I always place the suncatcher crystal & beads in front of me and move them around in place, before I string them.
I like to use different beads and colours to create a sparkle effect.
Often I go wild and use vibrant colours as this brightens up my mood. If I'm feeling mellow, I love subtle colours - tones like blues, greens, turquoise. You will know what colours you want to work with, as it often depends on the emotional mood that our body, mind and spirits are in.
When you're happy with the layout, then go ahead and thread with your beading wire.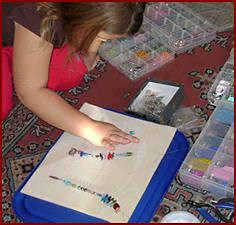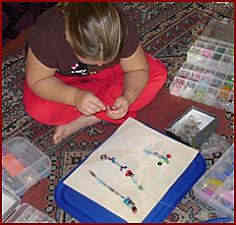 You will need these essential materials:

Tigertail - the beading wire used to thread your beads and crystals. I use a smooth, silver nylon coated thread, that doesn't kink. The ideal beading wire I enjoy using is Acculon Tigertail - 7 Strand (Size 0.018 diameter).

Side Cutter Pliers are the ideal beading tool for cutting Tigertail.
Crimp Beads (Crimps) - these are little metal beads a variety of styles and colours. They are used to secure your thread. Basically, it avoids tying knots. The wire is threaded through the crimp bead, around the clasp loop or through the top of the crystal drop and then back through the crimp bead.


When you have your crimp in place, you compress it with Crimping Pliers, which curls/bend the crimp bead and seals the connection. Alternatively, if you don't have Crimping Pliers, you can use Flat Nose Pliers. The difference is that the Flat Nose Pliers won't curl the crimp around the wire, instead, your crimp will lay flat.

See our Beadsmith Color ID Mini Plier Sets. Each set contains 1 x Round Nose Pliers, 1 x Chain Nose Pliers and 1 x Side Cutters.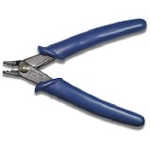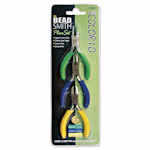 See our range of Jewellery Tools including jewellery pliers here.
If you're just getting started, why don't you take a look at our "Factory Seconds". This stock has arrived from the factory, slightly damaged, chipped or has minor defaults. The stock has never been used. Sometimes these defects occur in transit during the shipping process. It has been heavily reduced in price and is a great economic alternative if you've just started beading. Just to get the feel of it all, without spending all your dollars at once. This category is updated regularly and they sell out very quickly. So keep this page bookmarked in your favourites!
Crystal Suncatchers are the ideal handmade craft to create and sell at your local market stall too!
It's really as easy as that. There is absolutely no right or wrong way to make a Crystal Suncatcher, and anyone can make them. It's an Easy Craft Idea for kids, mums or dads, grandparents, anyone! And more importantly, it's enjoyable and relaxing.

Happy Beading!