Metal Stamping Checklist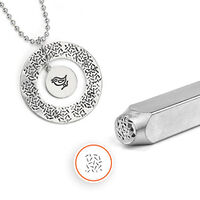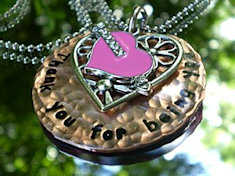 Photo courtesy of Robyn Rumbold
RAR Abstract Art & Jewellery Creations Facebook

GETTING STARTED!
METAL STAMPING CHECKLIST
Metal stamping is such a growing hobby. Maybe because it's one of the few hobbies where, after your initial tool purchases, the on-going costs are relatively minor.
My recommendation is to START SMALL. As your stamping skills develop you can expand.

I'd like to suggest some minimum requirements to help you get started.
You may have some of these items already (like that Claw Hammer from your toolbox or Chain Pliers if you're a jewellery/craft enthusiast).

Here is my checklist of items to help you get started and begin your stamping adventure.

METAL STAMPING KIT - LETTER STAMP SETS
To start you off, we have a Metal Stamping Kit that includes your basic 3mm font, bench block, hammer and some metal blanks. The 3mm size will help in your initial Stamping trials to give you better stamping results with less time practising. Lowercase also 'softens' the stamped message. Using all caps can look like SHOUTING. If you like the particular font, you can buy the uppercase later.
Two of my most popular Stamp Sets are Basic Sans Serif Upper / Lower Case and Stargazer (if you're feeling a little fancy :). Browse through the Alphabet Letter & Number Stamping Sets to decide what you would like to see on your metal blanks. Alternatively, take a peek at the different styles of fonts available here

STAMP STRAIGHT TAPE
The Stamp Straight Tape is a specialty non-residue tape for metal stamping. It's an invaluable guide for the marking out, spacing and alignment of the Stamps. The tape can be marked with a pen for spacing, and its thickness makes it easy as you drop and drag the bottom of the Stamps giving you perfect alignment.

STAMPING HAMMER
When you're starting out, you could use that hammer in your toolbox. I'd recommend a minimum 16oz (1lb) hammer to achieve reasonable results. You'll find, however, using the specialty large head Brass Hammer or Brass Short Handle Hammers will markedly improve the effectiveness and consistency of your strikes and I believe you'll find them well worth the investment. Speciality Hammers, including Chasing or Textured Hammers can be added to your toolkit as your skills and requirements expand.

STEEL BENCH BLOCK
They don't need to be big! Stamping Bench Blocks are made from high-quality tool steel and are the ideal surface for stamping, forging or texturing.
Sunsetcrystals also have composite Blocks (combining rubber or wooden backing) which absorb stamping noise or can be used when more delicate work is required.

METAL STAMPING BLANKS
Your choices are endless. Gold, Silver, Brass, Copper, Vintaj, Aluminum, Plated, circles, hearts, angel wings, heavy or softer gauges. Browse Metal Stamping Blanks for so many possibilities. Softer metals, or thinner gauges will tend to curve when you stamp them. They can be easily flattened out with a Nylon Hammer. Before you stamp on Silver, you should get a Nylon Hammer.

OXIDIZING
A Permanent Black Marker is a quick way of darkening the stamped area of your jewellery. ImpressArt Stamp Enamel will darken the impressions. Once you colour over the stamped word, the excess can be polished away with Ultra Polish Pads. The Ultra Polish Pads will also finish off your piece removing oily residues and fingerprints. As you experiment with the more expensive blank materials like silver and gold, specialised oxidizing solutions such as Liver of Sulfur are available.

HOLE PUNCH
18 gauge blanks are heavier and thicker than 24 gauge, so a Hole Punch Plier with a 1.5mm pin that is suitable to work the thicker blanks is recommended. Most plier style Hole Punches come with replacement punches. Screwdown Punches are also available for larger hole sizes or very thick materials (ie leather!).
Most economy-priced Blanks and Specialty Blanks will not have holes, so a Hole Punch is really a must-have.

JUMP RINGS
Jump Rings will join the hole made in the stamped blank to the jewellery chain or cord. As a guide, 16 gauge jump rings are perfect for 1.5mm punched holes. Chain Nose Pliers, one straight and one bent nose will make working with jump rings easy.

Fonts, Design Stamps, Thumb Safe Stamp Holders and Dapping Hammers are tools that can enhance your creations with decorative shapes.

I do hope this helps. There are so many resources out there to inspire your creativity.
Metal Stamping has been an exciting and rapidly growing craft.
For myself, I'm hooked!
At Sunsetcrystals, I will continue to expand my offerings of quality Fonts (I love them!) and specialty Stamps, and to provide you with an ever-growing Tool and Supplies range to satisfy your Stamping requirements.