Patinating With Liver of Sulphur


Liver of Sulphur is a solution or gel used to change the pigment or finish of metals or other media to create durable colouring effects. It can be used to embellish jewellery, stamped items, findings or filigree.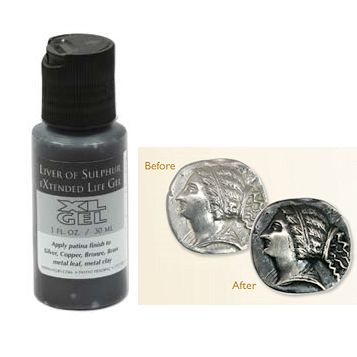 With Ultra Polish Pads or degreasing soap, remove oils and residues as they will affect the patina.( If you tumble polish your piece after patinating, remove the used shot for future patinated jewellery pieces ).
Prepare the Liver of Sulphur per manufacturers' instructions.
Dip the metal into the solution for a few seconds, then rinse the metal in cool water to stop the chemical reaction.
For a darker patina, continue to dip and rinse. You can vary the patina with a Brass Brush and soapy water.
With Liver of Sulphur, you can also achieve different colours of patina by varying the temperature and amount of water.
Our range offers specialised stamping / embossing / embellishing supplies including blanks and bezels, a large range of Patina Ink colours, Glues and Sealers, dyes, Relief Blocks and even Rivets.
Stamp, impress, texture, fasten, hang, link, layer, bead, string, suspend, hammer, flatten, rivet, cluster, glue, alter, ink, paint and more to create all types of types of jewellery & craft projects! Resin and Mixed Media products are perfect for decorating metal, jewellery, paper goods, chip board, grunge board, wood, leather, acrylic, textiles, foil, canvas and more!
To protect your creations, use Renaissance Micro-Crystalline Wax. Renaissance Wax is the #1 choice of museums, galleries and professionals worldwide. It forms a durable, transparent, and lustrous protective coating that will not discolour. Use it on all metals and also gems, glass, bone, mother-of-pearl, stone and more. Renaissance Wax helps prevent tarnish and corrosion by creating a barrier to dirt, fingerprints and moisture, It's non-staining, non-abrasive, and it cleans beautifully -- lifting oil, dirt and the murky build-up of other polishes.
Use Renaissance Wax sparingly, rub lightly, and buff to a hard transparent finish (will retain a matte finish when unpolished).